Universal Sonar 2 Temperature Sensing
The US2 transducer has an array of built-in temperature sensors that will display water temperature on most major fishfinder brands that have this feature. Please refer to our US2 Compatibility Chart for specific models.
Testing the performance of the Universal Sonar 2 transducer to verify it is functioning properly
You can test the depth finder with the OEM (Original Equipment Manufacturer) supplied transducer. Compare the performance with the Universal Sonar 2 transducer. If depth finder does not function properly with either transducer, the display may be faulty.
Cone Angle for Minn Kota's Universal Sonar 2 transducer
There are several different methods of specifying transducer cone widths. In electronic terms, the decibel is used. By measuring the power level from the center axis of the transducer to the point at which power drops by one half, an accurate cone angle can be measured. Minn Kota's cone angle measures 20 degrees for the 200 kHz beam and 60 degrees for the 83 kHz beam. For an exact calculation use the equation (depth) tangent of 14 degrees. Charts are listed below: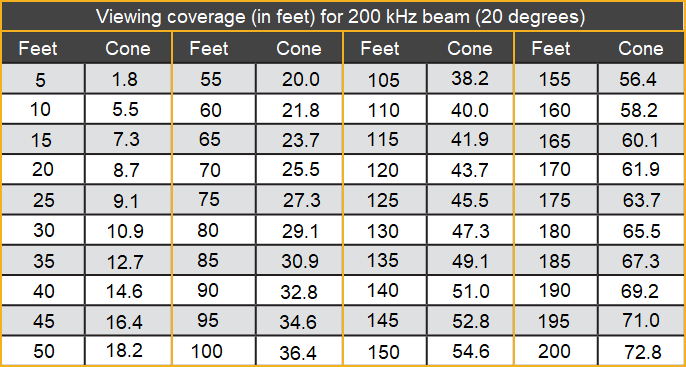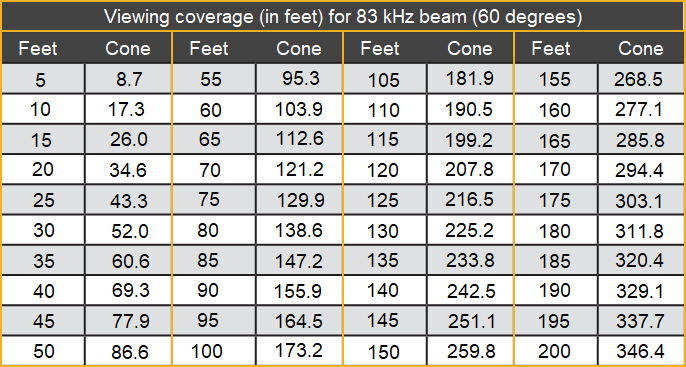 Minn Kota models that offer the optional Universal Sonar 2 feature
We offer the Universal Sonar 2 feature on the following freshwater bow-mount trolling motor series: Ultrex, Fortrex, Ulterra, Terrova, and PowerDrive.
Click here to see the complete US2 compatibility chart.
Upgrading from a motor with Universal Sonar to a motor with Universal Sonar 2
Some Universal Sonar users installed the optional fused ground wire between the grounds of their trolling motor batteries and starting battery. If this is your situation, this wire should be removed.
All Universal Sonar 2 trolling motors have an internal bonding wire that connects the ground of the trolling motor batteries to the ground of the display (which is typically the starting battery ground).
You will also need an adapter cable to connect US2 to your depth finder. To find out which cable you need for your fish finder, please see our Universal Sonar 2 Compatibility Chart.
If your fishfinder is not listed on the compatibility list
We only offer Universal Sonar 2 adapter cables for fish finder models listed on the Universal Sonar 2 compatibility list. Other fish finders not listed may work, however they have not been tested or qualified by Minn Kota and the fish finder manufacturer. The qualification program is ongoing to add additional fish finders to our compatibility list.