If your trolling motor is not getting enough power, it will not work properly. If you are having issues with your trolling motor, the first step in troubleshooting is to check the power to the motor. Batteries lose power over time if they have been sitting unused. As vatteries age, they will have less life per charge. Overly deep discharges will cause sulfation that will reduce the batteries ablity to provide power, damage from shock and vibration can destroy battery performance. even new batteries are prone to failure. It is always a good idea to check your batteries regardless of how old they are.
Calculating Runtime
The battery(s) for your trolling motor need to provide sufficient amperage and have a high enough amp hour rating to provide power for your motor usage. This link will take you to a downloadable PDF with the formulas for calculating Approximate Runtime, Approximate Speed in Miles per Hour and Approximate Horsepower. As a general rule, we recommend a 110 amp hour (Ah) rating per battery for 6-8 hours of runtime. If you have a lower Amp Hour rating, you will want to calculate the runtime for your motor. The chart below will show the max amp draw for your motor based on the thrust. If your battery(s) do not have a high enough Ah, you can connect additional batteries in parallel to increase the runtime. This link will walk you through creating parallel connections with additional batteries. When calculating runtime, we cannot determine amp draws at less than max amp draw as the boating conditions like boat weight, current, and wind will affect the actual amp draw.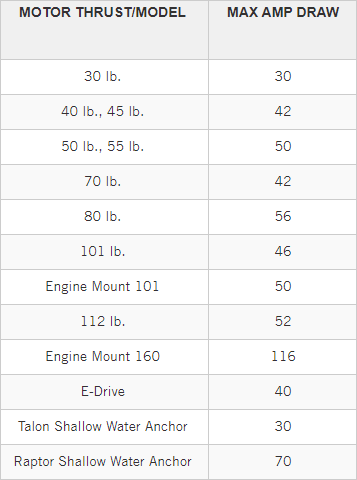 Selecting Battery Quantity
The number of batteries needed is determined by the trolling motor. If the motor is 55 lbs. of thrust or less, you will need (1) 12 volt battery. If you have a motor with more than 55 lbs of thrust up to 80 lbs. of thrust, you will need (2) 12 volt batteries for a total of 24 volts. If you have a motor with more than 80 lbs of thrust you will need (3) 12 volt batteries for a total of 36 volts. If you have an E-Drive motor, you will need (4) 12 volt batteries for a total of 48 volts. If you have a 24 volt, 36 volt, or 48 volt motor you will need to connect the batteries in series. This link will walk you through a series connection. The chart below will show how many batteries and the voltage needed by thrust.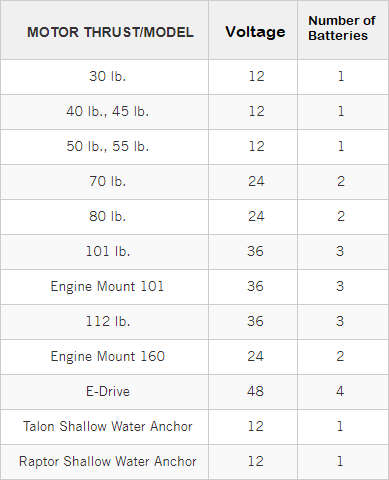 Selecting Battery Group Size
The type of battery you choose will be affected by the features you want and available space in your boat. Larger group size batteries are larger in physical size and usually have a higher Ah rating. The chart below shows average runtime based on the Amp hour rating of the battery and generally associated group size


Battery Types
Trolling motors can be used with Flooded Lead Acid batteries, AGM batteries, Gel batteries, and Lithium batteries. The different types of batteries have different features that may affect your battery choice.
Checking Power
After verifying your batteries are capable of providing proper power to your motor, you will need to follow the steps below. These steps are important to determine if you have an issue with your power, what that issue is and where it is located. If you find an issue with your power, you will need to resolve it for proper operation of your trolling motor.




Visually inspect your wires looking for any wear marks, kinks, or cuts. If you see any, replace the wires with appropriately sized wires from the chart below. You can check for breaks in the lines by testing each line for continuity with a continuity tester. Another method, although not as reliable, is to feel the lines while they are in use, any warm spots indicate an issue.