i-Pilot Link allows your Minn Kota and Humminbird to communicate with each other to change the way you fish. With Link, you can take command of your motor from the wireless remote or your Humminbird. And once you do, the possibilities are endless: lock onto spots, record and retrace paths, follow depth contours, and more. Redesigned with new features and a customizable touchscreen remote, it's the ultimate GPS trolling system. Click here to learn more about i-Pilot Link.
Features
Mobile App
Get quick command of speed, steering, Spot-Lock and AutoPilot, plus easy software updates directly from your mobile device. Compatible with iPhone and iPad running iOS 8.0 or later, and Android 4.4.2 and up.
Bluetooth
Bluetooth® connectivity gives you a fast, secure connection and allows for easy software updates via your Apple® or Android™ device to add new features to your system. Bluetooth also allows you to connect to your Talon or Raptor Shallow Water Anchors.
Humminbird Virtual Remote
With i-Pilot Link, you can control your motor from a virtual remote on your Humminbird screen when connected to a compatible Humminbird. Take command of speed, steering, Spot-Lock and Advanced AutoPilot, directly from your fish finder.
Spot-Lock
The game-changing GPS anchor holds you on your fishing spot like never before - with state-of-the-art algorithms for the most accurate hold on the water.
Circle Mode
When connected to a compatible Humminbird, you can cast to a spot while orbiting in a circle around it with Circle Mode. Just choose the spot and how far from it you want to be, and your boat will circle the spot while you drop the hammer.
Follow a Contour
You fish, we drive. Only i-Pilot Link allows your boat to navigate automatically, using information from LakeMaster or AutoChart Live maps. Use a LakeMaster map to follow a depth contour, or AutoChart Live data to follow along a bottom hardness, vegetation or depth contour line from your custom map. Take your game to the next level by using Follow Offset to choose how far away you want to follow from any of these fish-holding areas. Follow Offset will automatically keep you a chosen distance away, while your i-Pilot Link trolling motor navigates, so you will always be just a cast length away from the fish. Note: These features require a Minn Kota i-Pilot® Link™ trolling motor, Humminbird networking fish finder and Humminbird LakeMaster® or AutoChart® Live map. *Only the Follow the Contour feature of i-Pilot Link requires a LakeMaster chip. All other features of i-Pilot Link are functional even without a LakeMaster chip.
iTracks and iTrack Offset
Create, store, retrace and return to your most productive trolling paths. The i-Pilot system can store up to 16 iTracks, each up to 2 miles long. When connected to a compatible Humminbird, you can adjust the location and position of saved iTracks to fit the way you fish. Create a new iTrack that mirrors one of your existing iTracks from a set distance away, so you can cast to it.
Go To
Choose any Spot-Lock or iTrack that you want to return to, and Go To will activate your motor to take you back there automatically.
AutoPilot and Advanced AutoPilot
Choose your heading and stay on it without lifting a finger. Just point the motor head in the direction you want to travel, hit a button, and your boat will stay on that course while your motor corrects for wind, waves and current. Advanced AutoPilot uses GPS to keep you on your selected heading. AutoPilot can be used when the GPS signal is not very good in the area you are boating.
CoPilot
With our legendary CoPilot functions, you can control speed, steering, prop on/off and high-speed bypass from your i-Pilot wireless remote, leaving you free to fish from anywhere on the boat.
Cruise Control
Precisely dial in and adjust your speed to entice fish with optimum bait presentation. Monitor your actual on-the-water speed on the remote screen and adjust it in 0.1 mile-per-hour increments.
High Speed Bypass
The Motor Speed with High Speed Bypass is set to 10 when engaged and returns to the previously set speed when disengaged.
Compatibility and Upgrade Kits
i-Pilot Link is compatible with all fresh and saltwater Ulterra, and Terrova trolling motors. It is also compatible with Ultrex motors. Select trolling motors do come with i-Pilot Link pre-installed. Some Ultrexes, Ulterras, and Terrovas do not have i-Pilot Link pre-installed, however you can add it as an upgrade kit. Click here for compatibility and Upgrade Kit information.
What is the difference between i-Pilot and i-Pilot Link
i-Pilot is a self-contained GPS system that is operated via a wireless remote.
i-Pilot Link has everything the i-Pilot models has but also has the ability to communicate with a Humminbird fish finder. The ability allows for a few more enhanced features, more memory for saving Spot-Lock locations and recorded iTracks, and control of your trolling motor through the Humminbird fish finder.
Below is a chart outlining the basic features of both options. Click here to learn more about i-Pilot and i-Pilot Link.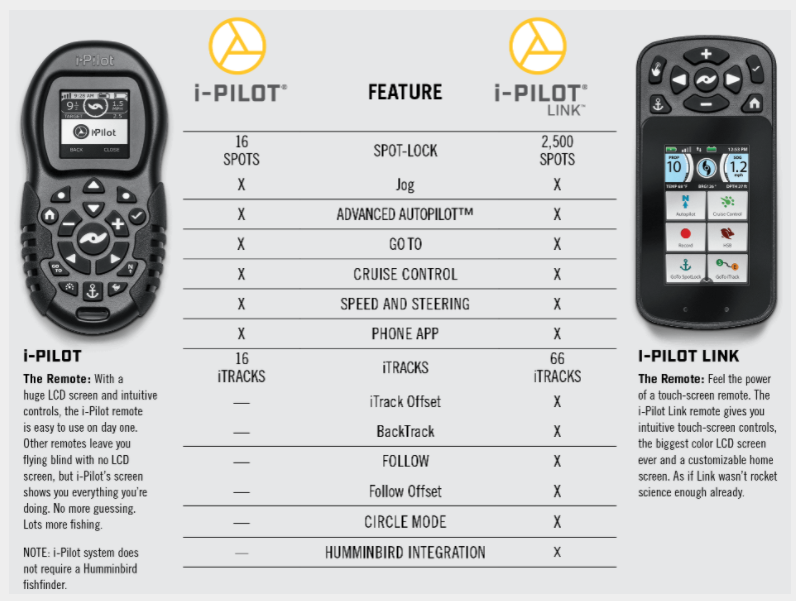 Special Considerations
If you currently have a trolling motor with the AutoPilot feature you can install the Legacy i-Pilot Link system, however, the AutoPilot will need to be uninstalled from your trolling motor before you install i-Pilot Link. i-Pilot Link includes all of the functionality of AutoPilot.
i-Pilot Link is not available for PowerDrives.