Selecting the correct type of battery to run a Minn Kota Trolling Motor
A Minn Kota trolling motor will operate with a lead acid or lithium deep cycle marine 12-volt battery/batteries. For best results, use a deep cycle, marine battery with at least a 110-ampere hour rating.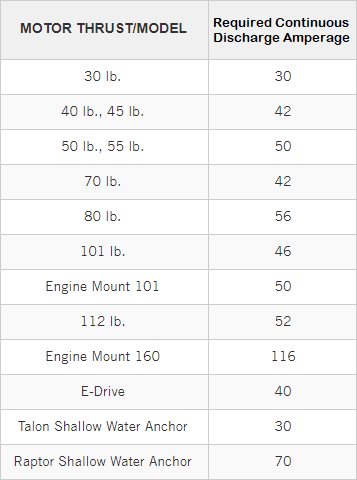 Advice Regarding Batteries
Never connect the (+) and the (-) terminals of the same battery together. Take care that no metal object can fall onto the battery and short the terminals. This would immediately lead to a short and extreme fire danger.
It is highly recommended that a circuit breaker or fuse be used when installing a trolling motor. Refer to the Minn Kota "Conductor Gauge and Circuit Breaker Sizing Table". For motors requiring a 60-amp breaker, the Minn Kota MKR-19 60-amp circuit breaker is recommended.
Batteries should be stored and maintained at full charge. Failure to recharge lead-acid batteries (within 12-24 hours) is the leading cause of premature battery failure. Minn Kota offers a wide selection of chargers to fit your needs and application.
If using a crank battery to start a gasoline outboard, we recommend that you use separate deep cycle marine battery/batteries for your Minn Kota trolling motor.
CAUTION:
For safety reasons do not switch the motor on until the propeller is in the water. If installing a lead wire plug, observe proper polarity and follow instructions in your boat owner's manual.
For safety reasons, disconnect the motor from the battery or batteries when the motor is not in use or while the battery/batteries are being charged.
Improper wiring of 24/36/48-volt systems could cause battery explosion!
Keep all battery post connections tight to the battery terminals.
Install battery in a ventilated compartment.